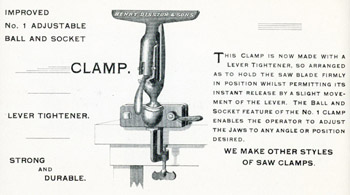 Here you will find our selection of vintage saw filing vises. These were made in a myriad number of styles, shapes and sizes. In general, the most desirable ones have the longest jaws possible. Most, however, are about 9" long which is the minimum that you should consider. We list these as we run across them and they are getting very hard to find--in any condition.
Vises which contain most of their finish are a rare breed. Most are at least a little rusty. Since they were made of cast iron, they were japanned which often wore off with the use and abuse that they saw.
Even considering the restore/clean debate as it applies to old tools, one can hardly object to a repaint if that's what pleases the user on something like this that is just intended to be utilitarian. Occasionally we get a vise in that has been repainted. This in no way harms the use of the vise, and in many cases was done for good reason. We will point this out in the description if we detect it. If you do decide to repaint your vise, make sure you use flat black paint, not gloss.
All the vises sold here are guaranteed to be without breaks and have jaws which close tightly to grip your saw while being filed. Our many years of filing experience ensures that if you buy one of these vises, it will be the last one that you need.
Since these vises are all cast iron, and are heavy, we ship all vises by Fedex ground fully insured. Additionally, a flat rate of $15 for shipping applies due to the weight and additional packing required. They are more fragile than you might think and we want to make sure that should an accident occur in transit, your item is protected from loss.