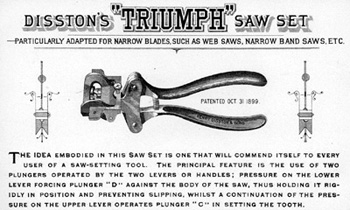 Relatively simple tools, saw sets allow you to bend the teeth of your saw so that it will clear in the cut. No shop is complete without one. After many years of evaluating all the various brands that were made, I've determined that the best performing is the Stanley 42X. These differ considerably from the Stanley #42, don't be misled. I've been turning over rocks and visiting every antique store in the tri state area to find these for sale. Back in stock...but not for long. These get sold as fast as they go up. Get yours today!
To allow us to quickly list these tools for sale, we now market these in 3 grades. The most crispy and desirable is the "new in the box" grade. All are unused, and ship in the box and often complete with original instructions. The only apology these sets may have is slight wear where the set has rubbed in the box for the last 100 years. For those who demand the very best.
Next is the "Professional Grade". These sets ship as shown and are in very nice shape, all with at least 95% original finishes. These are for the discerning buyer who is budget conscious, but demand the best.
Finally there is the "Utility Grade". These sets retain at least 75% of their original finish and may have some light rust which can be easily removed. All work the same and will provide the same great clamping action to hold the blade while the plunger moves the saw tooth.
Note that the pictures shown are representative of what you will receive...not the picture of the actual set. All are guaranteed to be as described and work great! These tools are pretty self explanatory. However, for those who feel left out and want to see the original Stanley instructions, click here.