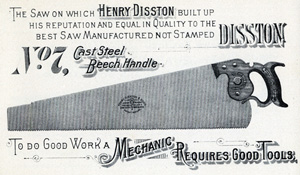 The #7 is one of the oldest models that Disston made. Henry Disston originally produced this saw in his shop in Center City Philadelphia in 1840. It was the saw that Disston marketed to trades and craftsmen, but soon it become known as the bedrock of the Disston line. Changing only slightly from 1840 to the late 1920s when the entire Disston line changed, this saw has been a favorite for many years.
Traits common to all #7s, and the later D7, were a straight backed blade and a beech handle. Prior to 1928, the blade had a small "nib" a few inches from the toe. While there is much debate about the purpose of the "nib", Disston claimed that it was merely decorative. To see a pristine example of a circa 1895 #7, visit the museum.
Later D7 models had a completely straight blade, losing the "nib". Handles on the early #7 were very graceful and fully carved of American Beech. Later, after 1928, while still carved of beech, the handle was slightly less carved, although still very comfortable. Most #7/D7s came equipped with 4 brass nuts, except during WWII when they were made of steel. Some shorter panel saws came with only three nuts. The later D7s while not as visually appealing as their older counterpart, make a great saw to use in the shop. The blade is wider than the D23 which it most closely resembles and has great balance to power through a cut.
No other saw came in as wide a selection of blade lengths and pitches than the #7. At the height of production, this saw was available from 16-28" in a cross cut, and from 20-28" in a rip. Cross cut saws were available with teeth from 5-11 points per inch, with 7, 8 and 9 ppi turning up most often. Rip Saws came with teeth from 4-7 points per inch, including most half sizes in between. Not many rip versions of this saw surface, although they do turn up. This is most likely due to the overwhelming popularity of the D8 Rip Saw which featured a finger hole handle.
Today good examples of the #7 are in extremely high demand. Nothing appeals to tool collectors and wood workers alike as the very ornate and graphic #7 handle and straight blade with nib. A classic, try a #7 in your shop today. 1895 #7, visit the museum.