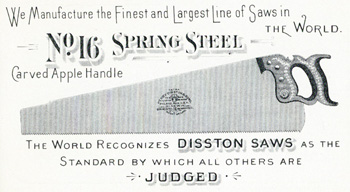 The #16 and later D16 was a premium quality cabinetmaker's saw that was marketed to fill the niche between the workhorse D8 line and the high end line such as the #12.
Offered beginning in 1850, the saw was made for about 30 years when it was redesigned and named the "New" #16 in 1880. Examples of the early period are scarce, and there is some debate if in fact a version prior to the "New" model exists. During this time frame, the saw was offered in regular and ship pattern widths.
For the period from 1880-1927, the saw is characterized by a straight back with nib and a let in handle similar to the D8. The handle was finely finished and polished, complete with wheat carvings. Full size versions of the saw had 4 nuts, with smaller panel sizes having only 3. The saw was really a sort of hybrid appealing to those who favored the let in handle which was popular with D8 line coupled with the heavy straight back popular on the more traditional saws like the #7 and #12. The result was a saw that was easy to control and had a very definite "presence" in the cut.
When the line was redesigned in the late 1920s, the result was a saw similar in characteristics, but gone was the nib. The blade was narrower overall than in the earlier model, and was offered in both regular and lightweight widths. This latest version of the saw is quite scarce, disappearing from the full line catalog in 1932. It made sense that Disston would discontinue the D16 since after the line was revised, there was little differentiating it from other straight back saws like the D7 except for the let in handle. It would seem that this variation alone did not warrant keeping the saw on for a longer period of production.