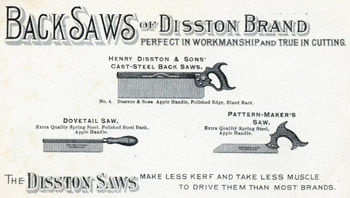 For the modern woodworker, a collection of back saws are indispensable for case joinery and other exacting cuts. The stiff steel or brass spine hold the blade rigid and the weight is handy for just the right balance to power through the cut.
Unfortunately, finding good quality vintage back saws is becoming increasingly difficult. For the most part, quality back saws ceased to be made in the US in the 1950s. England continued to make a good saw, but by the late 1980s, production there had ceased too. All that remains in current production are a few examples of specialized saws.
In general, most woodworking tasks can be completed with 3 backsaws. A dovetail saw which is 8-10" long with 14-16 ppi rip teeth, a 10-12" long back saw with 12-14" ppi cross cut teeth, and a 14-18" back saw cut with 8-10 ppi rip teeth. While the dovetail saw is used for dedicated work on carcase joinery, the back saw with cross cut teeth is for general cuts across the grain for joinery, not the least of which is tenon shoulders. The longer backsaw is ideal for cutting tenon cheeks...rip teeth are perfect for this task. Obviously, the higher the blade, the longer the tenon possible.
Also available are select mitre saws. Mire saws are usually differentiated from back saws by the ogee curve on the heel under the handle. While designed primarily for use with a mitre box, they do come in handy for certain specialized tasks such as precise cuts in timber framing . Mitre saws, as the name suggests, are used exclusively for cross cuts, and almost always are outfitted with 11-12 ppi teeth. All the saws below are first rate saws. Condition at a minimum is good, usually good plus to fine. The price reflects the relatively scarcity and the overall condition. You should expect that all saws below have good quality blades and handles that are intact with no damage. Exceptions to this rule are noted. As with all our saws, the saws below arrive freshly sharpened and set, ready to cut. The pitch of all saws is noted.
If you are interested in a saw but prefer another pitch or tooth profile (rip instead of cross cut), this can be easily done for an additional $25 charge. Expect that the blade height noted will be reduced by approximately 3/16". If you would like a pitch profile other than that which is present on the saw, please indicate your preference in the comments section of the order form when checking out.
If you have visited here before, you will know that most saws that are offered go quickly. This is especially true of back saws. Try one of these saws in your shop today, and turn on your band or table saw less often. You'll be glad you did!