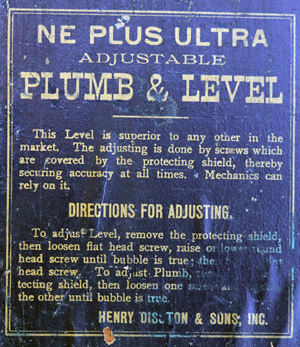 Back when craftsmen worked with their hands for a living and relied on their tools for that living, the very best of class tools were labelled "NE PLUS ULTRA". Merriam Webster gives the following definitions:
1: The highest point capable of being attained : ACME
2: The most profound degree of a quality or state
In 1996, Patrick Leach and I had a dream to recreate tools that were consistent with this ideal. There was a desperate need for dovetail saws for craftsmen that sought to cut dovetails by hand, considered by many to be the most demanding wood working task of them all. After much planning and study, we gave birth to a small company called "Independence Tool". The main product was a stylish dovetail saw which was modeled after a vintage 1830 Groves and Sons Dovetail saw.
It was an exciting time, the internet was still on training wheels back then, and orders spread by word via the oldtools listserve and trade shows that we attended. Over time we marketed our saws to Highland Hardware in addition to our own website. During the two year period we made dovetail and carcass saws, over 2000 satisfied customers purchased our saws. Frank Klausz, Roy Underhill and Christain Becksvoort were among our loyal customers. In 1998, goals changed and the company was sold to Lie Nielsen who still makes that saw today. Before Independence Tool, there was no other domestic back saws made. We pioneered many aspects of production that are used by many others today, namely the solid, no slip solid brass back and comfortable, carved handle for the ultimate in sawing comfort.
Since that time, many have asked me to bring those saws back to market. Patrick has devoted his time since Independence Tool to reselling the best of modern hand tools. You would be well served signing up for his monthly sales list located here.
After much thought and in consideration of the vast array of makers who are now present in the marketplace, I sought to revisit the design of the 1990s and live up to the original NE PLUS ULTRA ideal. With that in mind, I offer what I consider the finest saws made today.
These saws feature:
Hand carved exotic wood handles made in house to the exact design we produced back in the 1990s. Standard offerings include Curly and Birdseye Maple, Zebrawood, Padauk, English Beech, Lacewood, Ebony and more. If you have a special piece of wood, we can use that too, just contact us for more information.
High quality Swedish Steel Blades hand filed and hammer set. We use an exhaustive process to insure the maximum sharpness possible. We start by filing our blades with a regular 4" double extra taper file, then hammer set the teeth, and finish by filing again with a fine diamond impregnated file. The result is a saw that is as sharp as can be, evenly set and smooth cutting.
Solid milled brass backs which will never slip, bend or break. Don't believe the hype surrounding the "virtues" of the folded brass back. If you ever drop it, you will soon discover the difference between our saw and the folded brass back!
Solid Brass hardware draw filed and permanently installed for a lifetime of trouble free use.
Hand applied tung oil finish which brings out the natural beauty of the carefully selected handle.
Faithful reproduction of real saws that existed in history, not fanciful modern interpretations. No one alive has studied saws longer or more intensely than us, we filed our first saw back in 1991 and expand our knowledge daily.
Respectfully Submitted,
Pete Taran
The response to our dovetail saw has been overwhelming. More are under construction. If you would like to preorder, please drop me a note through the contact page or stop back next week when we will have more posted.
You can read a recent honorable mention about us from Chris Schwarz of Lost Art Press fame here